Scientific research can feel distant from our everyday lives, and indeed it often requires years — or decades — of intense study to bring a life-saving medical treatment or useful new technology to fruition. Even in the face of daunting challenges and long timelines, researchers at the University of Wisconsin–Madison bring their love for learning and passion for problem solving to the task of improving lives.
From advanced materials aimed at making athletes safer to medical discoveries that could one day help treat ailments like blindness, here are just a few examples of UW–Madison research that tackles real-world problems with innovative scientific approaches.
Making headway on detecting and preventing brain injuries 
Based in the Department of Mechanical Engineering, a collaborative initiative spanning academia, industry and federal agencies is pursuing new strategies for preventing and better detecting concussions and other traumatic brain injuries. Formed in 2017, the PANTHER research initiative has already made progress in identifying new ways to diagnose brain injuries without obvious symptoms. The initiative has also produced a lightweight, ultra-shock-absorbing foam made from carbon nanotubes that could be used in helmets to better protect athletes from strong blows.
Getting closer to treating blindness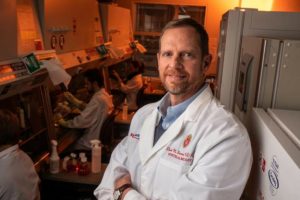 People with vision problems, including blindness, caused by certain degenerative eye disorders could in the not-too-distant future be eligible to take part in new clinical trials aimed at restoring their sight. That's thanks to research led by scientists at the UW–Madison McPherson Eye Research Institute. The work recently produced a significant advance in growing retinal cells in a lab. The innovative approach reprogrammed human skin cells into stem cells that can grow into "organoids" that function like retinas. Human clinical trials are the next step for the research.
Harnessing machine learning to improve medical imaging
A group of researchers from the College of Engineering, School of Medicine and Public Health and Department of Computer Sciences are developing algorithms and data processing methods to improve medical imaging techniques like CT scans and MRIs. The collaboration, called Machine Learning for Medical Imaging, began in 2018 and has already produced a new way to predict severe asthma progression based on CT scans of lungs. Ongoing projects are aimed at using machine learning to better diagnose aggressive kidney cancer and to predict whether pancreatic cysts have the potential to develop into malignant tumors via CT scan images.
Improving our understanding of 'forever chemicals' in the environment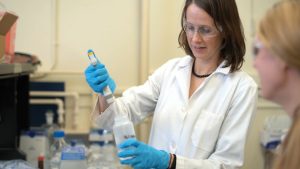 Per- and polyfluoroalkyl substances (PFAS) chemicals are a growing environmental and health concern in Wisconsin and the world. The chemicals, long used in many consumer products and materials like firefighting foam, are very long-lasting and transport easily through water both above and below ground, a particular concern in water-rich Wisconsin. Researchers from across UW–Madison are at the leading edge of understanding where and how PFAS moves through the environment — a key first step to mitigating its impacts. Recent work on this front include a study by researchers in the Department of Civil and Environmental Engineering that identified a PFAS plume flowing into Lake Michigan via Green Bay. Another study from scientists in the Department of Geosciences offers a simplified method for forecasting how the chemicals move between the ground surface and the water table.
Developing life-saving medical devices for newborns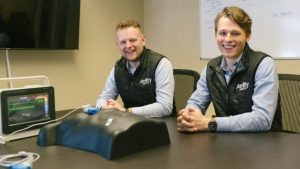 It's not only well-established professors who perform life-altering research at UW–Madison — undergraduates and young alumni are driving scientific and medical innovations as well. A recent example involves a pair of recent graduates from the Department of Biomedical Engineering who leveraged a design project into a successful medical device company, partnering with faculty in the Division of Cardiovascular Medicine and the School of Business. That startup, called Artrility Medical, is filling a gap in postoperative care for newborns with serious heart defects with a specially designed external pacemaker. The device received FDA approval in 2020 and is already being used in more than a dozen children's hospitals around the country.